VA comp. "Re-Fresh Brain"..........out soon!!!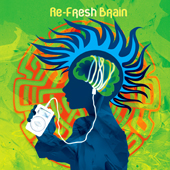 MAGMA RECORDS is back, presentig the first edition of the "ReFresh Brain" compilation series.
Re-Fresh Brain includes 10 powerful psychedelic full-on hits, produced by knwon and upcoming artists, which have cought the attention of Magma Records label head and international Dj Nicholas.
This sizzling compilation includes unreleased tracks by new Magma artists: Virtual Attack, Plasmoon, Domateck and Digital Tribe, which recently compiled Magma records compilation - V/A Digital Vision.
Digital Tribe are currently hard at work making the last arrangements to their highly anticipated debut album, expected later on this year.
Re-Fresh Brain contains also tracks by known international producers, including, Visual Paradox, Insomnia, Cosmic Tone, Indra and Didrapest, and fresh new sounds by Toxical, Liquid Logic, System Failure, Biotouch, and Neurologic Twist.
Time for a Re-Fresh, Time to Re-Fresh ones brain!!!

Track List:
01. Insomnia vs Visual Paradox - Total Inception
W.& P. by: Tom Shoval - Orel Shapira - Gadi Marian
02. Cosmic Tone - Open Air
W.& P. by: Nissan Roi
03. Virtual Attack - Distortion
W.& P. by: Miguel Angel - Nir Amilyaner
04. Domateck - Overlord
W.& P. by: Meir Azulay - Asher Sabag
05. Indra - Pa shot
W.& P. by: Oshri Krispin
06. Digital Tribe vs Neurologic Twist - E-motion
W.& P. by: Shlomi Dahan - Oshri Haziza - Raphael Schumann - Alexander Wiest
07. Liquid Logic - Cyclelogic
W.& P. by: Avi Kalawani
08. Didrapest vs System Failure - Parat of the music
W.& P. by: Hanan Ben Armon - Nati Asraf
09. Toxical vs Plasmoon vs Digital Tribe - Bobo
W.& P. by: Rotem Doron - Eli Abutbul - Angelo Vito Fuso - Giampaolo Sparesotto - Shlomi Dahan - Oshri Haziza
10. Biotouch - Music for the people
W.& P. by: Ricardo Guerra Couto Ferreira - Joăo Carlos Rosário Marques
MAGMA Records / Dj Nicholas would like to thank:
My wife, my child – Thomas, and my family…for their endless Love & Support.
Homsy and BOA Group, Oshry(Electro Public), Oren(S.O.B. studio), D.j. Bog(Visual Paradox), Tom & Orel(Insomnia), Roi Nissan(Cosmic Tone), Oshri(Indra), Hannan(Didrapest), Nati(System Failure), Avi(Liquid Logic), Rotem & Eli(Toxical), Ricardo & Joŕo(Biotouch)…BIG Respect to you all!!!
Special Thanks goes to the new Magma artists:
Shlomi & Oshri (Digital Tribe)

Angelo & Giampaolo (Plasmoon)

Miguel & Nir (Virtual Attack)

Meir & Asher (Domateck)

Lots of Love to all the music people traveling the dance floors across the world.
Listen the music at:
http://www.boadistribution.com/news/MAGMA/MGMCD007